On Christmas Day, the world learned that George Michael had passed away peacefully from heart failure. An inexplicably poignant loss for both music and fashion fans still mourning the passing of David Bowie and Prince. These iconic artists challenged and redefined public perceptions of masculinity, sexuality, and fame. Cindy Crawford honored George Michael on her Instagram: "His bravery inspired all of us." This includes daring style choices that ranged from fashion faux pas to fashion chutzpa. Fashion School Daily reflects on a few highlights from the artist's style legacy:

The Monument. The year 1990 brought the dawn of a new cultural era wherein celebrity and fashion began its spectacular merger. The January cover of British Vogue was a portrait by photographer Peter Lindbergh of five supermodels already household names, and sometimes more famous than the designers who hired them: Cindy Crawford, Naomi Campbell, Christy Turlington, Linda Evangelista, and Tatjana Patitz. When director David Fincher pitched his lip-synch video idea for the next single, pop history was made. Later same year, the models closed a seminal Gianni Versace show to the track, bringing it full circle.
Freedom '90 solidified George Michael's place in fashion iconography. In 2016, Instagram powered an upgrade of the legendary music video featuring Adriana Lima, Joan Smalls, Taylor Hill, Anna Ewers, and Irina Shayk. Meanwhile, two other George Michael megahits were envisioned as stories of life on the runway: Father Figure (1987) and Too Funky (1992). The latter marked an industry breakthrough for visionary French designer Thierry Mugler who collaborated on the tongue-in-cheek exposé of behind-the-scene chaos, arguably launching "backstage" as a fashion media genre. Last year Vogue had published a detailed oral history of the groundbreaking shoot with first person insights from performers, stylists and crew involved in production.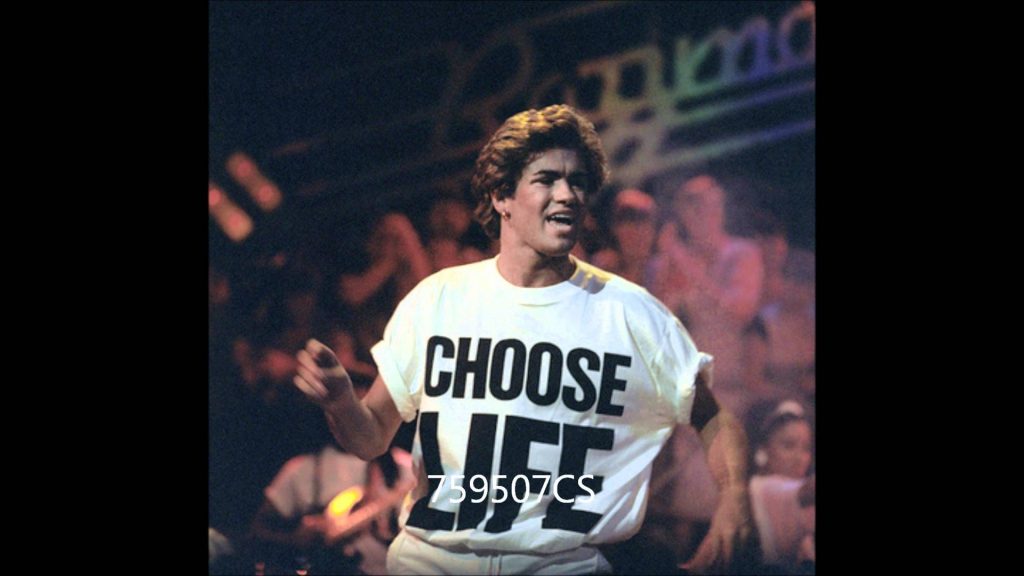 The Milestones. No stranger to political commentary, in 1984 George Michael wore a custom-made "Choose Life" T-shirt by artist Katharine Hamnett sparking controversy that elevated T-shirts to a new level of social and fashion discourse. He made it ok for the most macho of men to accessorize with jewelry and sport hair highlights.
Aware of the mythical pitfalls of entering same river twice, George Michael has never clung to his stage personas. Later he switched from requisite aviators and leather jackets to bespoke tailored suits, remaining fearless in his bold color choices like the Mark Powell magenta suit from his defiant tribute to the late Freddie Mercury in 1992. He formed a career-long creative partnership with another giant whose sense of style has defined the 1990s: Giorgio Armani. The Italian couturier has created numerous outfits for the singer, most notably the wardrobe for his anniversary tour "25 Live!" He championed unabashed organic sexuality infusing everything he touched with sex appeal.

The Memory. Georgios Kyriacos Panayiotou was born into a working-class first-generation Greek immigrant family in North London. The world remembers him as George Michael, an unapologetic global queer icon of music and style. In his own words (Round Here) from the last studio album Patience: "When all that I wanted was to be someone… I guess, I got to be somebody in the beautiful city.