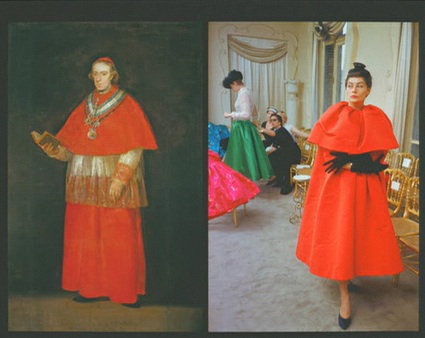 The DeYoung Museum in San Francisco seems to be on a fashion streak, with several designer exhibitions now and in the coming months. The current exhibition, Balenciaga and Spain, looks gorgeous. When it opened a few weeks ago, Hamish Bowles, Editor-at-Large for Vogue and curator of the exhibit, gave a lecture along with Miren Arzalluz, Lourdes Font, and Pamela Golbin (try saying those names fast). Most of the lecture and the exhibit compares Balenciaga's work to Spanish works of art – illuminating the inspiration for his designs – but I also learned several interesting factoids about the designer.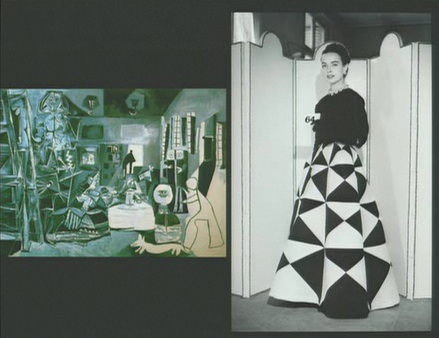 First – a few of the basics: Balenciaga was a haute couture designer in the time of Chanel and Dior, working in Paris — although he was Spanish by birth. He is known as one of the few couturiers who actually knew how to sew, rather than just sketch designs and hand them off to seamstresses. When he died, society women fainted or locked themselves in dark rooms (so dramatic) and declared that fashion was over. One of my favorite stories about Balenciaga is that he did not pay attention to trends and, instead, designed each dress for the woman wearing it, focusing on her best features.
Here's some other facts I learned:
1.) He was over 40 years old by the time he set up his first shop in Paris.
2.) When a gown was in production, a small piece of satin was sewn inside it to show the proper direction of the grain.
3.)  Balenciaga was six years old when he made his first piece of clothing — and it was a coat for his cat. Supposedly, he disliked how much the cat moved around and switched to humans.
4.)  Although he was born to a middle class family in a small fishing village, as a child, Balenciaga hung out with the Spanish royal family. His father would give them leisure rides while they summered in San Sebastian and his mother mended their clothes. Without this exposure to the quality and craftsmanship of the royal family's clothing, Balenciaga likely would not have become the designer he was.
5.)  At the height of the post-war Paris couture industry, the house of Balenciaga was the most profitable of all the couturiers, even though competitors like Dior were six times larger (in terms of employees).
Written by: Yasha Stelzner, MFA Fashion Journalism
For more information on the Balenciaga and  Spain exhibit, click here.