Fashion School Daily correspondent, Claudia Paolinelli reports on what went down last night at Fashion's Night Out!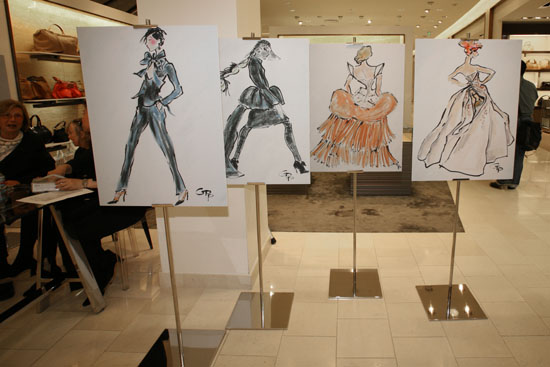 Gladys Perint Palmer's Paris couture illustrations decorate the the floors of Neiman Marcus on Fashion's Night Out
Fashion's Night Out, the brainchild of editor extraordinaire Anna Wintour couldn't have guessed what a hit it would be. While New York City and other fashion capitals around the globe were celebrating fashion in their own way, the School of Fashion and Neiman Marcus partnered to boost consumer confidence and stimulated the fashion economy on Thursday night in San Francisco.
Instructors from the school, current students, and alums were in there to provide demonstrations, present their collections, and speak first-hand with consumers about what they want out of fashion. Anxious shoppers took to the six floors of designer digs and enjoyed shopping while eating delicious food, drinking refreshments, and listening to cool music.
Cheers Anna, it was a great success just as much in San Francisco as it was in New York.