New York, NY, February 10, 2014 – Every designer dreams of showing their collection at Mercedes-Benz Fashion Week, and on Friday, February 7th that dream came true for 13 designers from the School of Fashion at Academy of Art University. "Since 2005, the School of Fashion has premiered the collections of students and recent graduates during New York Fashion Week. Part of our commitment to our students is to help launch their careers and have their work seen by industry professionals," said Dr. Elisa Stephens, President of Academy of Art University. "Debuting these designers' collections during Mercedes-Benz Fashion Week is an incredible opportunity for each of them."
For the Fall 2014 season, 13 designers presented eight collections, four of which were collaborations between Fashion Design and Textile Design students. In total, six womenswear and two menswear collections were presented at the Academy of Art University Mercedes-Benz Fashion Week show.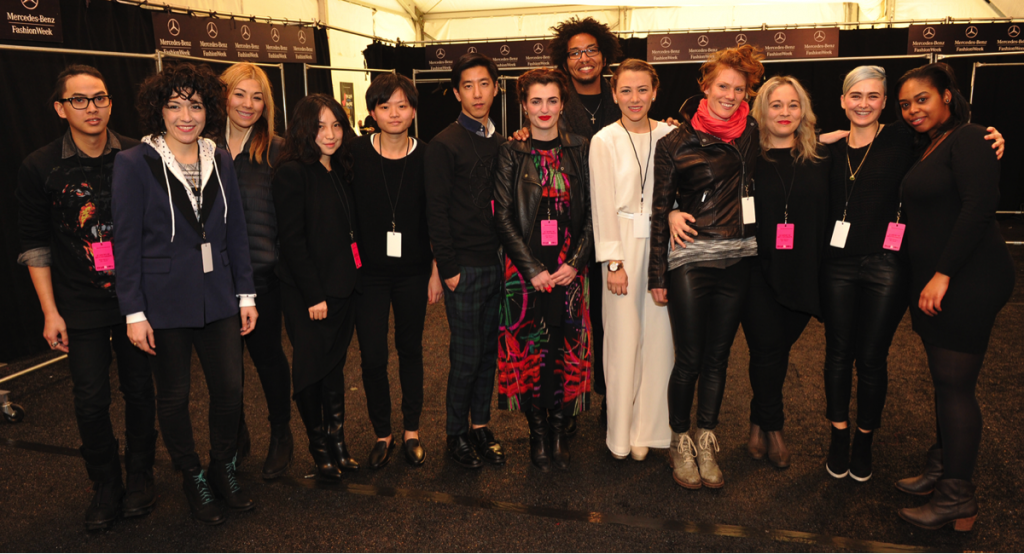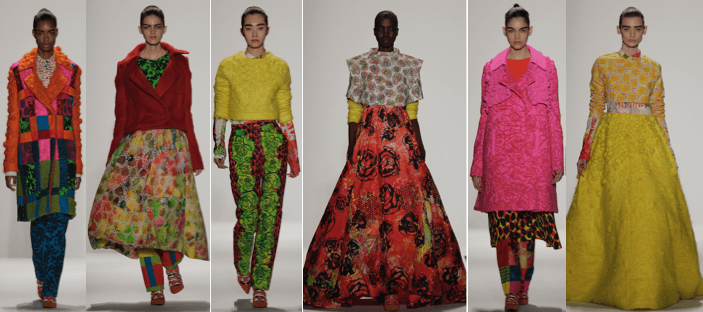 Jaci Hodges, M.F.A. Fashion Design, collaborated with Nisha Hanna Btesh, B.F.A. Textile Design, on a 1960s-inspired womenswear collection that was created with the use of Shibori, the Japanese technique of resistance felting. Originally from Austin, TX, Jaci holds a B.B.A. in Marketing with a minor in Philosophy. Additionally, she recently completed a design internship with gr.dano, a Bay Area ready-to-wear company co-founded by fellow alumna Jill Giordano. Nisha is a California native, born and raised in San Diego. Jaci and Nisha were inspired by the excess of prints worn during the late 1960s, in particular to those seen on the Brady Bunch, and the costumes worn by Mia Farrow in the film Dandy in Aspic.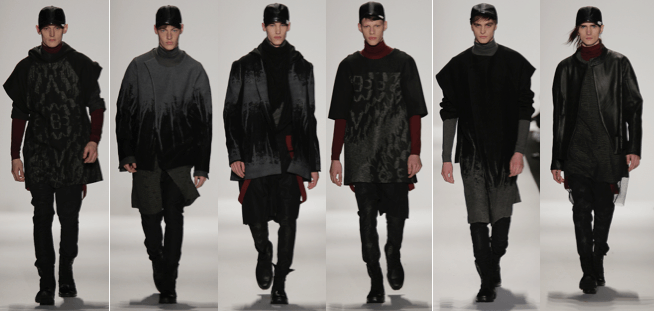 Frank Tsai, M.F.A. Fashion Design, collaborated with Andrea Nieto, B.F.A. Textile Design, on a menswear collection inspired by the mood and emotion of an international photography collection, "Beauty in Decay," personal struggle, raw emotion, and the different stages of the healing process. Frank was born and raised in Kaohsiung, Taiwan, earned a B.S. Degree in Fashion Design and Merchandising, was awarded high honors for his undergraduate fashion show, and worked as the Marketing Manager for FU YU Clothing Company. Andrea grew up in Cali, Valle del Cauca, Colombia, is on the Academy of Art University President's Honor List, was awarded a $10,000 scholarship through the YMA Scholarship Fund as a Geoffrey Beene National Scholar, and recently finished a design internship at BCBGMAXAZRIA.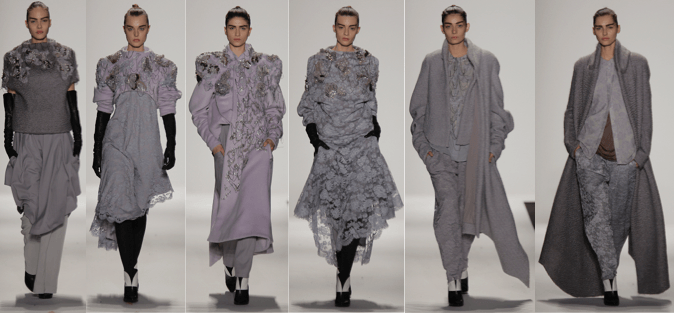 Arijana Kajdić, M.F.A Fashion Design, was born in Velika Kladuša, Bosnia. At six years old her family immigrated to Ravensburg, Germany where they received asylum until the end of the Bosnian War. Her family eventually migrated to Boise, Idaho where she earned her B.A. in Communications and English. For her collection, she blended elements of masculine design with feminine treatment, all the while paying homage to the women who have nurtured her, in particular her grandmother. Her collection has an immense amount of handwork, ranging from hand-dyeing to hand-beading. French lace company Sophie Hallette provided the lace, and other fabrics used include alpaca, mohair, wool, suiting, cotton, silk, and gauze. After graduation, she will begin a six-month Assistant Designer Trainee Program at St. John Collection.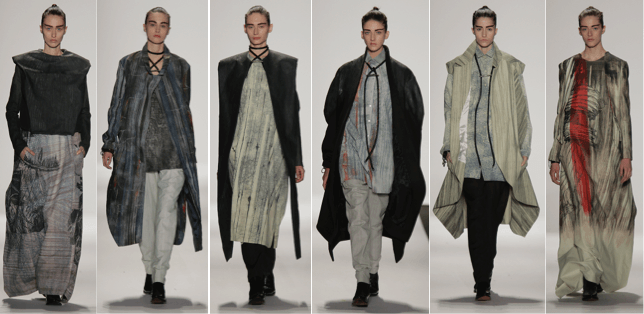 Flora Cervantes, M.F.A. Fashion Design, collaborated with Lori Solem, M.F.A Fashion and Textile Design, on a collection constructed from canvas, cotton, wool, and latex. Flora grew up in Warwick, NY, and holds a B.A. in International Political Economy and Business Administration and an A.F.A in Fashion Design. Flora drew inspiration from the environment, in twisted shapes found in nature, and in the way human emotions are bent and gnarled by life experiences. Lori hails from Sumas, WA where she earned a B.A. in Interdisciplinary Studies with an emphasis on Fashion Design, Sustainability, and Social Accountability. Lori was inspired by gritty industrial textures and illustrations of the French artist Gustave Doré.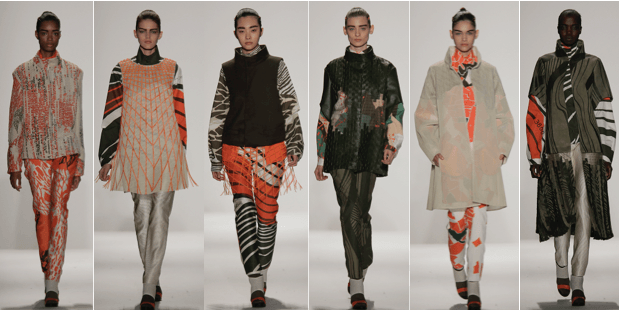 Earnest Huang, MFA Fashion Design, collaborated with Hong Ni, M.F.A. Textile Design, on a Fall 2014 womenswear collection made of natural materials such as leather, wool, and cotton, as well man-made fabrics Phifertex and Viscose. Earnest was born in Taichung, Taiwan where he completed his B.A. in Humanities and Social Sciences. Earnest was inspired by his travels to Hong Kong. Hong is from Hangzhou, Zhejiang Province, China, and holds a B.F.A. in Textile Design and an M.F.A. in Textile Interior Design and Fashion Trend Research. Her many accomplishments include earning the 2010 Chinese National Art Exhibition Award, teaching at her undergraduate alma mater, and being the chief designer for two fashion companies, LingLuoHui and Dacheng Cityscape Design LLC. While a student at Academy of Art University, her 3.78 GPA earned her a spot on the President's Honor List. Her textile designs were inspired by the scale and fine details of aerial view photography and contour maps of the countryside.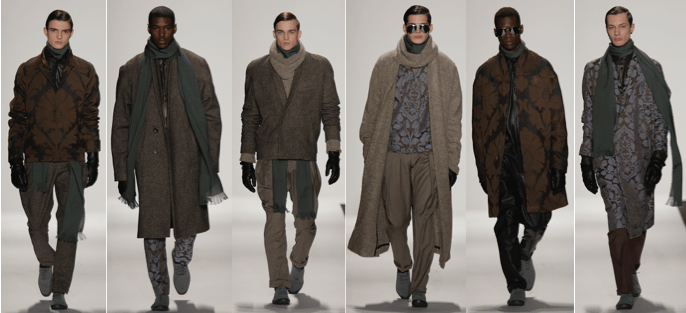 Elizabeth Castellon, M.F.A. Fashion Design, is originally from Bronx, NY. Before attending Academy of Art University, she graduated from The High School of Fashion Industries, and then went on to complete her B.S. in Human Ecology, with a concentration in Fashion Design. Her Fall 2014 menswear collection is comprised of leather, a variety of wools, and upholstery fabrics. She took inspiration from futuristic architecture, interiors, sculptures, and incorporated themes from 1930s sportswear. Her goal was to blend the classic tailoring elements that traditionally embody menswear with an abstract, futuristic appearance.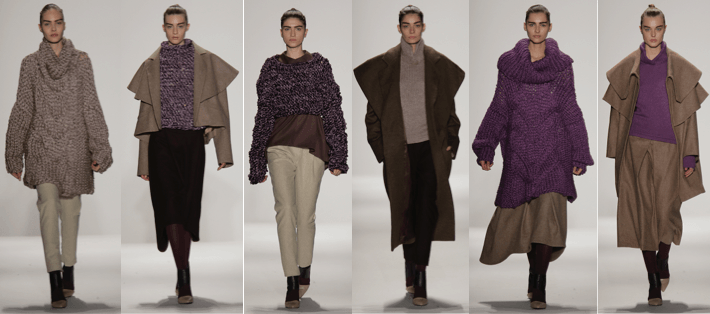 Jasmine Gonzalez, M.F.A. Fashion and Knitwear Design, grew up in San Jose, CA. Before attending Academy of Art University, she earned a B.S. in Apparel Design and Merchandising. She has interned with design companies N.I.C.E. Collective, gr.dano, Jessica McClintock, and most recently with Rodarte on their Spring 2013 show. Her Fall 2014 womenswear collection includes hand-knitted pieces, hand-made yarns, and hand-dyed velvet, and was inspired by the idea of all cultures combining as one. The main details of her knits were taken from the design of Fabergé eggs, while the oversized silhouettes showcased in her collection were inspired by Jasmine's reinterpretation of traditional Inuit outerwear.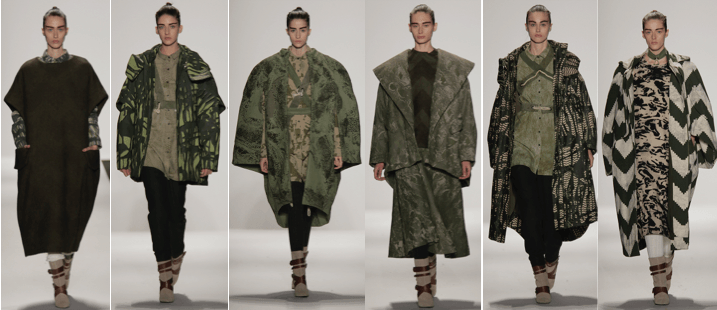 Mingyu Du, M.F.A. Fashion Design, collaborated with Joseph Khawane, M.F.A. Textile Design, on a womenswear collection made of unique fabrics including army tent and parachute materials, wool blankets, and cotton canvas. They were inspired by the mod fashions of the 1960s as well as the attitude and freedom of the youth from that period. Originally from Qinhdao, China, Mingyu earned a B.F.A. in Fine Art and Calligraphy and won the National Dragon Cup Painting Calligraphy Competition in Beijing, China. Joseph was born in Fairfax, VA, and grew up in Baltimore, MD. After earning his B.F.A. in Fashion Design, he worked on theatre set and costume design, as well as millinery production. His design internship with Aysha Saeed in NYC inspired him to pursue his M.F.A. degree at Academy of Art University. He drew inspiration from Ghanaian sculptor El Anatsui and Syrian contemporary artist Diana Al-Hadid.
About Academy of Art University
With more than 18,000 students, Academy of Art University is the nation's largest accredited private art and design university. Established in 1929, the school offers accredited A.A., B.A., B.F.A., M.A., M.F.A., and M.Arch degree programs in Acting, Advertising, Animation & Visual Effects, Architecture, Art Education, Art History, Fashion, Fine Art, Game Design, Graphic Design, Illustration, Industrial Design, Interior Architecture & Design, Jewelry & Metal Arts, Landscape Architecture, Motion Pictures & Television, Multimedia Communications, Music Production & Sound Design for Visual Media, Photography, Visual Development, and Web Design & New Media. Online degrees are offered in most areas. Academy of Art University is an accredited member of WASC (Western Association of Schools and Colleges), NASAD (National Association of Schools of Art and Design), NAAB (Master of Architecture), and CIDA (Council for Interior Design Accreditation offered for BFA-IAD, MFA-IAD).
About the School of Fashion
Approximately 2,500 fashion students study under the guidance of experienced fashion professionals in the School of Fashion, which houses the following areas of specialization: Fashion Design for Womenswear, Menswear, and Childrenswear; Technical Design; Textile Design; Knitwear Design; Accessory Design; Fashion Illustration; Fashion Journalism; Fashion Marketing; Fashion Styling; Fashion Merchandising; and Visual Merchandising.
The University works with international brands and recruitment agencies on internships and job placement. Graduates have gone on to such companies as Abercrombie & Fitch, Adidas, Alexander McQueen, Azzedine Alaïa, Banana Republic, BCBGMAXAZRIAGROUP, Blanc de Chine, Burberry, Calvin Klein, Corso Como 10, Chloë, Diane Von Fürstenberg, Donna Karan, Gap, Kate Spade, Kiton, L.A.M.B., L'Ecole Lesage Paris – Atelier de Broderie, Liz Claiborne, Louis Vuitton, Marc Jacobs, Martin Margiela, Martine Sitbon, Missoni, Nike, Nordstrom, Northface, Old Navy, Oscar de la Renta, Pamela Dennis, Phillip Lim, Pottery Barn, Ralph Lauren, Reebok, Roland Mouret, St. John, Threeasfour, Tocca, Viktor & Rolf, and Williams Sonoma.
Guests to the School of Fashion include Azzedine Alaïa, Prosper and Martine Assouline, Max and Lubov Azria of BCBGMAXAZRIAGROUP, Yigal Azrouël, Geoffrey Beene, Rose Marie Bravo, Sarah Burton, Andrew Buckler, Julie Chaiken, The Honorable Bertrand Delanoë Mayor of Paris, David Downton, Steven Cox and Daniel Silver of Duckie Brown, Patrik Ervell, Loulou de la Falaise, James Galanos, Neil Gilks of the CFDA, Joan Kaner, Humberto Leon and Carol Lim of Opening Ceremony, Antonio Lopez, Fern Mallis, Alexander McQueen, Rosita and Tai Missoni, Isaac Mizrahi, Josie Natori, Christina Neault of IMG Fashion, Ian Hannula and Joe Haller of N.I.C.E. Collective, Elisa Palomino, Laure du Pavillon, Zac Posen, Oscar de la Renta, Zandra Rhodes CBE, Ralph Rucci, Nathalie Rykiel, HRH Princess Reema Bandar Al-Saud, Jeremy Scott, Carla Sozzani, Philip Treacy, Walter Van Beirendonck, Dirk Van Saene, and Dame Vivienne Westwood DBE, as well as Christophe Girard Director of Fashion Strategy of LVMH Fashion Group, Robin Givhan, Cathy Horyn, and Suzy Menkes.
School of Fashion
Academy of Art University
79 New Montgomery Street
San Francisco, CA 94105
Visit: http://www.academyart.edu/
Call 800.544.2787 (U.S. only) or 415.274.2200
Visit the School of Fashion: http://www.academyart.edu/experiencefashion/index.html
About the School of Fashion Directors
Gladys Perint Palmer (GPP), Executive Director of the School of Fashion, is a working journalist and illustrator. In 1998, The Fashion Book (Phaidon Press) named GPP as one of 500 people of influence in fashion since 1860. In 2007, she was honored to be one of 150 creative forces invited to participate in the Victoria & Albert Museum's 150th Anniversary Album, as well as the corresponding exhibition. Her illustrations were used on banners and in promotional materials for Mercedes-Benz Fashion Week in New York City for both the Fall 2011 and Spring 2012 seasons. Her editorial work has appeared in numerous publications including The New York Times, The Washington Post, UK Sunday Times, The New Yorker, and Vogue, and Vogue.com. Her advertising clients have included Chanel, Christian Dior, Fendi, Missoni, Versace, and Valentino. In 2004, Fashion People (Assouline), her first book of drawings and irreverent captions was published and has since sold out.  The launch for her second book, Adam & Yves (Firefall Media), took place in September 2013 during Mercedes-Benz Fashion Week at Lincoln Center. She is working on her third book, You are not on The List.
Visit: gladysperintpalmer.com and gladysperintpalmer.tumblr.com
Simon Ungless, Director of the School of Fashion, graduated from Central Saint Martins School of Art and Design in 1992 and was awarded the prestigious M.A. Degree in Fashion with Distinction. He collaborated with Alexander McQueen on the first ten collections shown in London and New York, and personally introduced Sarah Burton, Creative Director of Alexander McQueen, to the late designer. In 2002, he was named Creative Director of Member Holiday, a Korean-based contemporary brand, launching both men's and women's collections with 37 freestanding stores. His work experience covers Fashion Design, Textile Design, Forecasting, Brand Development, and Marketing for such clients as Givenchy, Paul Smith, and Versace. In addition to being the Director of the School of Fashion overseeing both M.F.A. and B.F.A., he is the editorial director of the School of Fashion's 180 magazine, and executive producer of the annual Graduation Fashion Show and Awards Ceremony in San Francisco, and the biannual fashion shows during Mercedes-Benz Fashion Week at Lincoln Center in New York City.
Keanan Duffty, Senior Director of Fashion Merchandising, graduated from Central Saint Martins School of Art and Design with a B.A. Degree, First Class, in women's and men's fashion and textile design. He is a member of the Council Of Fashion Designers Of America (CFDA), and the winner of Fashion Group's Rising Star Award in 2003. In 2006, he created England's Dreaming by Keanan Duffty, and David Bowie by Keanan Duffty collections for Target. He worked as a guest designer with brands including Ben Sherman, Gwen Stefani's L.A.M.B, Reebok, Dr. Martens, Gola, and Aveda. In 2009, he wrote Rebel Rebel-Anti Style. He is executive producer of a docu-drama film about the life of Malcolm McLaren, provocative manager of the Sex Pistols and the New York Dolls. Malcolm McLaren: Spectacular Failure is slated for a 2013 release.
Sharon Murphy, Director of Fashion Merchandising, held management positions in product development, sourcing, manufacturing, and fashion retailing. She worked for Esprit de Corp on domestic and international levels with a focus on the development of fabrics and apparel for contemporary, junior, and children's markets. Murphy joined the School of Fashion as an instructor in 2001. She continues to work with Venice Collaborative, sourcing textiles and related materials for the group's architecturally and artistically expressive residential projects in Venice, California.
In-house Press Contacts:
Ian MacKintosh / 415.618.3849 / 845.417.5219 / imackintosh@academyart.edu
Jeanette Peach / 415.618.3891 / jepeach@academyart.edu
Chloe Preussker / 415.618.3831 / cpreussker@acdemyart.edu
Social Media Channels
Fashion School Daily: https://fashionschooldaily.com/
Facebook: http://www.facebook.com/academyofartfashion
Twitter: http://twitter.com/aaufashion
Pinterest: http://pinterest.com/aaufashion/
Instagram: aaufashion
– Credits –
Executive Producer – Simon Ungless, Director of the School of Fashion
Casting – Zan Ludlum / zanludlum.com
Stylist – Marcell Rocha for Workgroup / workgroup-ltd.com
Production – LDJ Productions / ldjproductions.com
Front-of-House Production – Kucerak & Co / kucerakandco.com
Show Press – Jono Waks / jono.waks@gmail.com
Models
DNA / ELITE / FUSION / IMG / MARILYN / NEXT / NYM / RED
THE SOCIETY / SOUL / SUPREME / VNY / WILHELMINA
Music – Scott Ewalt
Production Assistant – Michelle Grunberg
Dressers – Audrey Smaltz Inc. The Ground Crew
Hair by Jon Reyman for beautyvt.com
Make-up by Janessa Pare for Aveda
Nail Services by Patricia Yankee
Special Thank You 
Sophie Hallette for donating the lace in Arijana Kajdić's collection
Rowenta USA for irons and steamers