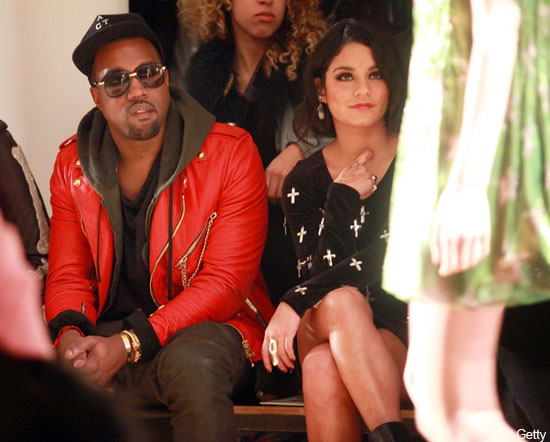 It's been a while since we've had a Facebook "hot topic." So when Grazia posted an article titled Grazia Exclusive: Kanye West's NY Fashion Week debut! last week, we decided to throw the topic out there and hear your thoughts — and Sébastien Estvanko and Anastasia Todish had a lot to say:
Sébastien: This disgusts me. Celebrities and fashion collections should never mix. They've never studied the proper fundamentals of design. They've never learned how to drape a garment, or to even draw that garment. The only celebrity designers I've ever liked are the Olsen twins for the Row. Just because he has an inflated wallet, and an even more inflated ego; doesn't make him a designer. I can only imagine what Eric Wilson and Cathy Horyn are going to be writing in the Times about this.
Anastasia: The Olsen Twins? Really? I thought Gwen Stefani's stuff looked better and that's saying something.
Anastasia: …besides, there's a lot of designers through the ages that never went to school to learn how to design. They did it through trial and error. If he's really serious about design then he'll be serious and actually learn about it. Besides, Kanye needs to be good at something and he's already enough of a diva to fit in fairly well.
Sébastien: I think what draws me to the Row is the amount of fur they use and the clean, well-tailored lines. I'm not very partial to L.A.M.B because I haven't studied it well enough to give an opinion. I'm in no way saying West doens't have passion. But fashion isn't his life. Like you've already stated, there are many great, talented designers who never had any formal study. Yves Saint Laurent started his design career by winning a contest and even he didn't make a name for himself until about 20 years after that — and look what he built for himself. Just because West has tons of money; he's going to be a designer over night, and the worst part is he'll probably never have to pick up a pair of scissors, because he'll have people to do that for him.
Want to add your opinion about Kanye the designer? Comment below — we really want to know what you think.