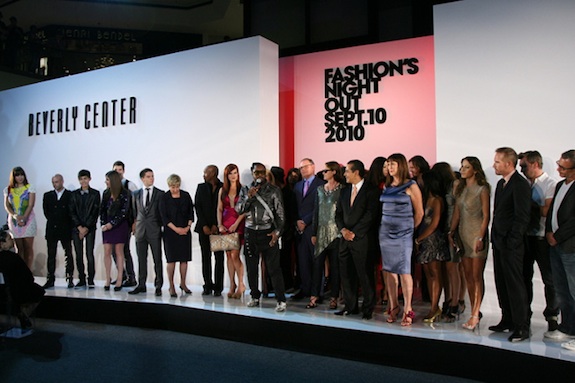 When September rolls around, Fashion's Night Out will be making another appearance across the nation — and Los Angeles is a city that will be participating in the festivities.
This year, they are giving the blogging community an opportunity to be part of the star-studded evening on September 8 with their first Fashion's Night Out L.A. (FNOLA) Blogger Contest. The contest began yesterday and they will be choosing five Official Bloggers for FNOLA. If you do get chosen, this is what you'll get:
– VIP Treatment for the entire night of Fashion's Night Out on September 8th
– Access to the VIP Suite and a ticket to the fashion show at the Beverly Center Kick-Off
– A driver to chauffeur you and the other official bloggers to FNOLA parties around the city, as you tweet, post and blog throughout the evening.
– One top blogger will be featured in GENLUX Magazine following the event.
To enter you must be prepared with the following information:
– Contact Info: Name, Email, Phone Number, Link to Blog, Facebook and Twitter profiles
– Stats: Number of Twitter and FB Followers, Unique Visitors per month, Klout score
You also must answer the following questions:
– Why should you be chosen to be an official FNOLA blogger?
– What would be your strategy to gain hype around yourself and FNO?"
– Describe your personal style.
You must also upload three photos of your personal style. The contest ends on August 1 and the winners will be announced on the Fashion's Night Out L.A. Facebook Page. You can submit all your material and read full details of the contest at www.fnola.com.