The San Francisco Opera season is quickly approaching and each year the Nob Hill Gazette asks fashion students for ideas on what the ladies should wear. This year includes fashion illustrations by Ashon Sylvester.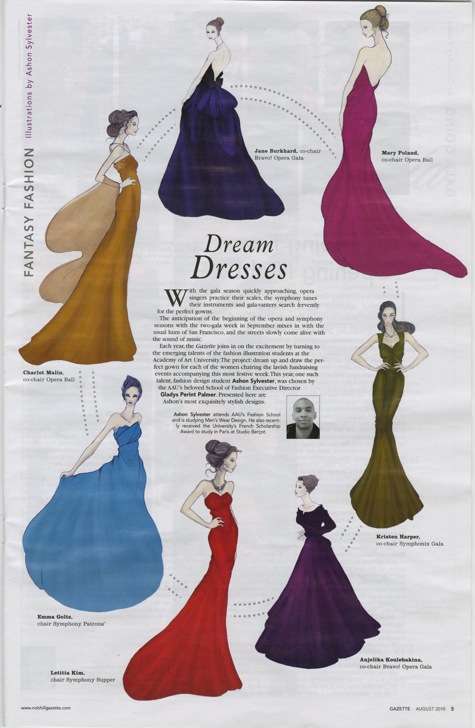 Born and raised in Palm Springs, California, Ashon graduated from Mesa Grande Academy in 2002 and worked as a graphic designer for Studio Waterman Inc. Interior Design Firm before beginning his studies in Menswear Design at Academy of Art University in San Francisco. While at school, he worked for Bay Area design companies Joseph Domingo, Free Gold Watch, and Black Klown Clothier. Last year, he was the recipient of the University's Linus Mendenhall Scholarship for Menswear Design.
On May 6th, Ashon presented his menswear collection inspired by space Indians and made from leather at the University's Graduation Fashion Show. After the fashion show, International Herald Tribune's fashion editor Suzy Menkes presented Ashon with the University's French Scholarship Award to study in Paris at Studio Berçot and, referring to jacket design details in his collection, said, "I think that anyone who can put a head inside the shoulder of a leather jacket will do fine in Paris."
Ashon is spending the summer in Palm Springs before going to Paris this fall.
For the online version of the Nob Hill Gazette article, click here.