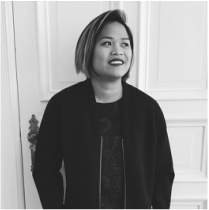 She herself is "a process, woven together by life."  A nomadic traveling spirit from Northern California who lends her fine art skills to a new artist's collective, Vagabond, the small community born out of Berlin, Germany, her current place of rest.
Growing up around the elements created a kind of spiritual curiosity, since translating into a deep desire to visually and artistically answer the questions she ponders.

Interview
What are you doing out in Berlin right now?
I travelled here for a month around Europe in the Summer and was trying to find another city where I could continue my art design, so I'm here for three months. I'm a graphic designer as well so I'm trying to find new work here, discover the art and design culture out here. It's very different from back home.
What's different about it?
I've never experienced it before so I was just curious about it. When I came here in the Summer I really liked the city of Berlin. Berlin and Amsterdam were my two favorites cities, but here it's just very raw, I love the street culture it's very vibrant, colorful. I grew up in the Bay Area, which is already very multicultural but out here it's even more so. Germany is in the middle of Europe so there's even more languages to hear, I find that very stimulating, being around different culture groups and just being somewhere completely new where I have no idea what's going on. It really gives me new energy. So when I was here in the Summer I did a lot of sketching, I did a lot of art work.
Is it more attainable to be an artist in Europe?
I know that it's very different out here, the street art culture here is different, the cities are much bigger, there's more variety, more artists, and I feel as a creative it's a lot more affordable to live out here. I think because of that there are a lot more artists in the actual city. As opposed to San Francisco where we're experiencing a lot of artists moving out to the East Bay, prices have gotten so high with rent but here it feels like it's more attainable.
Is there more of an artist community there then?
I think it's different. There's more in the actual city. And it seems that way according to all of the people that I've talked to so far. Everywhere you go there's a pop-up gallery, or a pop-up store. I see a lot of artist communities around, people experimenting. It feels very attainable to do that here with the little money that I do have, as opposed to back home all of my money was going on rent and it was really hard to try to rent a pop up store for example. Another part of me being here for three months is to try to do that. It feels like the art and design here is a bit more
experimental in sense. Actually the neighborhood that I'm in Neukolln, it's a super creative and progressive place. Even just walking around, all the stores are small brands, popups, and it feels like there's definitely an entrepreneurial spirit here, which I'm really drawn to.
Tell me a bit about your interests and inspiration?
I think that being by the ocean, being by the elements, I love the water. I used to live up in Marin County in Fairfax, and I was so close to the beach I would go there almost every other morning last year. That really inspired me a lot with my watercolors, my newest round of work. Just the feeling of being by the ocean. I was always curious about the elements and the universe and I think what really inspires me is thinking about the universe, and interconnectivity. How people connect, how paths cross, how there's a much bigger picture out there and how everything relates to each other. The four elements, and how everything relates, that's what I'm really fascinated with.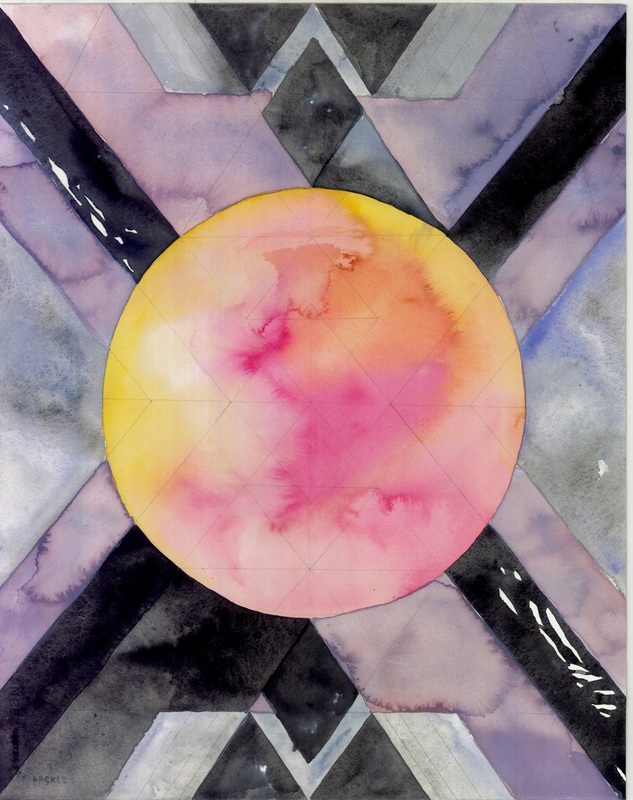 Beginning in graphic design and now crossing over to art on canvas…just a natural extension?
Ever since I was a kid I was creative and always doing art. Even though I was studying graphic design at school (Academy of Art University), and working in that field, I was always doing fine art on the side. Along with illustration and a lot of different types of painting. I used acrylic, watercolor, a mix of both. Watercolor is my favorite medium this last year. With my free time I've just started trying to promote my fine arts, trying to get it out there and it's been a lot of fun. I wish I had done it sooner! That's always the balance you need to try to find whilst you're working.
You use a lot of symbols, geometric shapes in your work. Is this a spiritual thing for you? How did you learn about the meanings behind those?
Being kind of a weird kid and being curious is part of it, but in school I also took a class, I think it was called
semiotics and semiotica (the study of sign processes and meaningful communication). It really influenced me, it was a class that taught you about what symbols mean, and how you can be perceptive about it, symbolism really fascinated me, as much as the people that I meet. One of my best friends Kate Targan is a musician and a spiritual healer, so all of the concepts that I've learned from her have really influenced me. When people that I've known have passed away it started making me wonder about the next level or a different dimension that could exist, just wondering where they are, being curious about an after life. A lot of the symbols that I use in my art are from when I'm thinking about people. One of the pieces (now showing at The Woodbridge salon in San Francisco), has one eye open, one of them closed, that was all about the balance of opposites, and I was thinking about my sister actually, it was about how we somewhat were the same soul, but we're split in two, the balance of opposites. I really enjoy sacred geometry and learning about those kinds of concepts. The universe and also native art influences me a lot. When I create, I think about people, I think about something I'm trying to convey, my relationship with them, or their relationship with the world. I'm trying to answer these own questions I have in my head.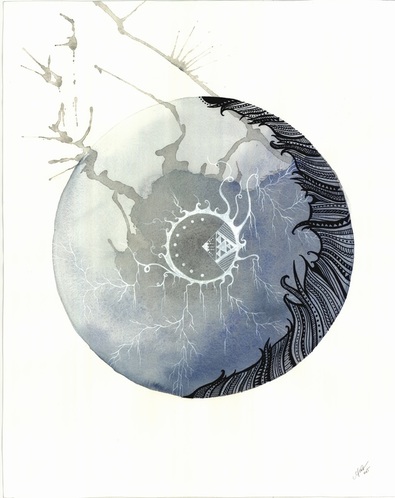 Your portfolio has a quotation from Jack Kornfield, American author and teacher of Buddhism "we ourselves are often a process, woven together by life" Do you follow Buddhism practices? 
I don't follow practices, but I've read some of Jack Kornfield's books and I was really drawn to his writings about Buddhism. When I read that quote it kind of put into context what I was trying to convey with my art, which is how everything's a process, but I feel that everything and everyone are interconnected in some way. There's a lot of aspects to Buddhism that I like, I think it's a really fresh way of thinking.
You named your collection Rapture, can you 
describe this sort of intense enthusiasm you feel as a creative?
It was just about that moment of bliss that you get when you're doing anything creative, when you're really concentrating and you finally finish, step back and feel in awe a little bit, you're really satisfied with what you've just achieved with the whole process, not just with the end project. You're totally enveloped in the moment, completely captivated by the activity of what you were doing. Rapture also conveyed with my schooling, a disciplined path.There are little moments within the crazy when you still accept this is why you're doing it. You're finally done, it came together just the way you wanted. It's visual art. An overwhelming feeling of bliss, felt through little pockets.
Where can we see your work?
Right now in San Francisco I'm at The Woodbridge and potentially at the Raw Artists showcase at 1015 Folsom in January. I'll be a part of something called Futurists. It sounds like a really awesome event. I hope that I'll be able to make it over from Berlin to be a part of it! Another reason why I'm in Berlin is because my friend Aaron and I, we just started an artist's collective called Vagabond, mainly me and him and a few friends in SF, in February 1-8th here in Berlin we're doing a popup gallery, it's our first group show as a collective. It's going to be a lot of fun!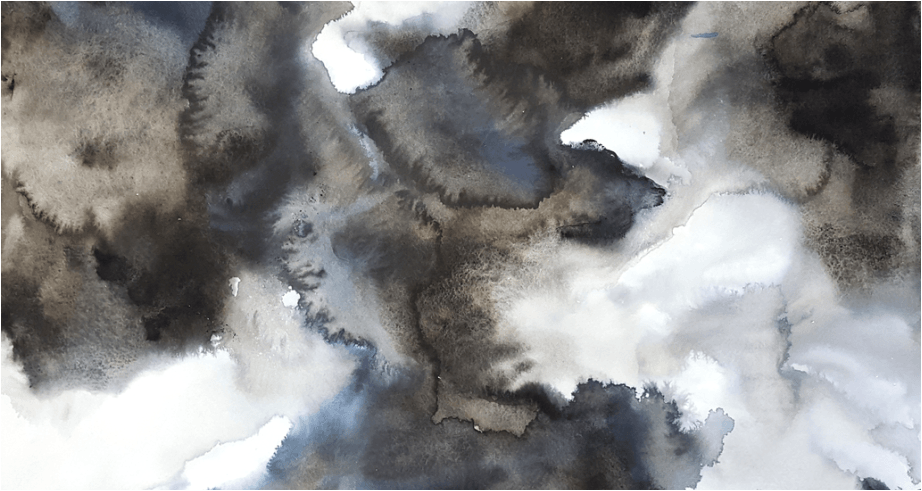 Do you think you'll get to any other European cities for popups?
Definitely, part of the reason we're calling it Vagabond is because we love to travel. We're based in San Francisco, but we want to travel, sharing not just our work but our friends' art. We want it to work with our lives, we're very much nomads right now. Being graphic designers, it's very easy to find remote work, so we want to take advantage of that while we can and spread our art at the same time. We're really stoked to see where it goes, and even though it's in the very beginning stages, we're already thinking about how to expand and who can get involved. We're taking it slowly, but we're like fuck it lets do a popup wherever we are, while we're there.
Future goals and aspirations? 
Trying to work independently. The last five years I've been working at firms and agencies around the city and in Portland, it's been awesome I love everyone I've worked with but I think now is the time to work on myself. We're very lucky that we're living in a culture where this is becoming more normal for young entrepreneurs. There's all these things that are accessible for us, especially with the web and social media to do our own businesses and projects the way that we want. I just really want to nurture whatever vision I have for myself at this stage. Working on this artist's collective, traveling, being open to everything, not tying myself down to working on one thing. Definitely trying to grow as an individual artist as well, I enjoy working with watercolour but I want to get involved in art installations in the future too. As a graphic designer I've worked with designing spaces and I want to utilize my experience with that, creating small scale art installations for our popups with the collective. It's the perfect fuse of what I've done professionally, and as what I want to do as an individual artist. Trying to create a whole different experience and change people's moods while they browse, even through the use of music. A lot of experimentation while I'm here, and really getting V agabond conceptually where I want it to be, with the right people, likeminded people. Who knows where I'll meet everybody!
Written by MFA fashion journalism major Faye Harris for her magazine, What it Takes.