TURQUOISE!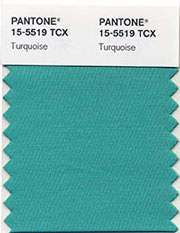 The minds at Pantone put there heads together and decided that Turquoise (a.k.a. 15-5519) will be the color as we start a new decade in the 21st century. Known for it's oceanic and aquatic tone, the color will probably get a lot of play in fashion for the new year.
"In many cultures, Turquoise occupies a very special position in the world of color," said Leatrice Eiseman, executive director of the Pantone Color Institute in statement. "It is believed to be a protective talisman, a color of deep compassion and healing, and a color of faith and truth, inspired by water and sky. Through years of color word-association studies, we also find that Turquoise represents an escape to many – taking them to a tropical paradise that is pleasant and inviting, even if only a fantasy."
Deep compassion? Healing? Faith? Truth? Is Pantone trying to tell the world something?
What do you think of Pantone's choice?