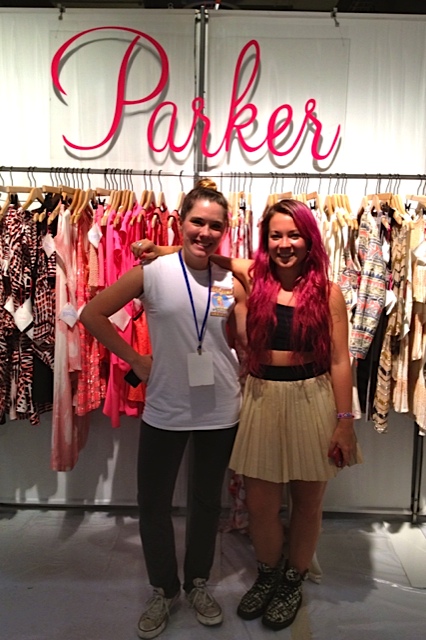 Tara Bradley (right) at the Parker trade show booth in New York with another of the brand's pattern makers.
This summer, the West Coast is excited to welcome back School of Fashion alumna, Tara Bradley! You might remember Tara as the powerhouse BFA Fashion Design student whose modern dance-inspired graduate collection not only hit the runway of the 2008 Graduation Fashion Show in San Francisco, but was so fab that it also showed for Fall 2008 at Mercedes-Benz Fashion Week in New York. It's no surprise that the city-chic label Parker snatched Tara up almost immediately post grad but, lucky for us, after four amazing years as a Pattern Maker for the brand, the Sacramento native is going, going, back, back to…well you get the idea. Today, we have Tara's top tips for how she took a major bite out of the Big Apple.
When did you first become interested in fashion?
I first became interested in fashion at a very young age. In terms of expressing my preferences to dress myself a specific way, I would say that started around age four or five. By age 12, I was customizing clothes from thrift stores and vintage stores, but it wasn't until I was an adult that I considered fashion as a career path.
[justified_image_grid row_height=400 height_deviation=50 ids="25290,25294″]
Behind the scenes at the photoshoot for the latest lookbook for Parker.
Your collection was featured in both the May 2008 Graduation Fashion Show and then at MBFW in New York that fall. How did your experiences compare showing your collection for both runways?
My undergrad show in San Francisco was much more stressful for me than the show in New York. By the time my collection was going to be shown at MBFW, I was already living in New York and working on another show for fashion week. The school handled everything for me in terms of styling and alterations, so I was able to relax and really enjoy the work that I'd done. My collection was restyled and changed up a bit for New York, and it was cool to see the clothes presented in a different way. The San Francisco show had been so amazing and rewarding in itself, so getting to be a part of MBFW was like icing on the cake.
How did you land your role as a Pattern Maker for Parker?
I was working as an Assistant Designer at Catherine Malandrino, and our fit model was also working for a new company called Parker who needed a freelance pattern maker. I freelanced for Parker for a few months on the side before being offered a full time position. I ended up working as a pattern maker at Parker for almost four years.
What would a typical day look like for you?
At Parker, I was always working on the development for one season and production for another season at the same time! Some days would involve fittings with a model to make style changes or fit adjustments. Our process as a team was very collaborative, so there would also be daily meetings with the designers and sales team about how things should look and fit.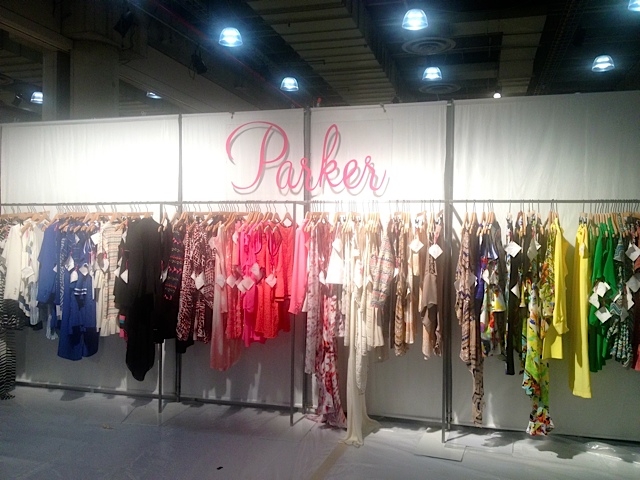 The Parker booth at the Fashion Coterie trade show in New York.
What have you loved about living in New York? 
There are so many things I have loved about New York. There is always something to do: a show or concert to see, a new museum exhibit, a gallery opening, etc. In the city, I love walking on the High Line, visiting the Guggenheim, and the Lower East Side is really fun for restaurants and bars. In the summer, there are always free concerts and dance performances in Prospect Park and Brooklyn. My favorite thing to do is to explore New York on a bicycle. It really changes your perspective of the city.
Any tips for recent grads looking to move to Manhattan this fall?
Don't be totally set on living in Manhattan. Brooklyn is more affordable and a lot of people prefer it. I lived in Brooklyn for five years and loved it. Make good relationships with the people you work with, other interns at your internship, etc. The first job is the most difficult to land, but most likely you will get your next opportunity through someone you already know.
Why did you make the decision to leave? Are you excited? Nervous?
I love New York, but after five years I felt like it was time to move on to a new adventure. I love the Bay Area and Northern California, it's part of who I am. I've always had this dream to live next to the ocean, so Santa Cruz seemed like the perfect place to begin this new chapter. I'm excited to see where life takes me, but also a little nervous about making such a huge change.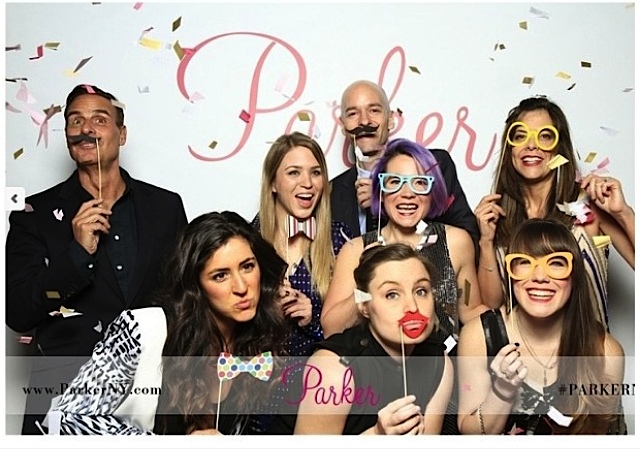 The Parker team at the launch of the label's e-commerce site. Can you spot Tara?
You head to Europe later this summer. What are the three things you will absolutely have to have with you in your carry-on?
A good book, a journal, and a pair of cozy socks.
For more "Alumni Updates" click here.