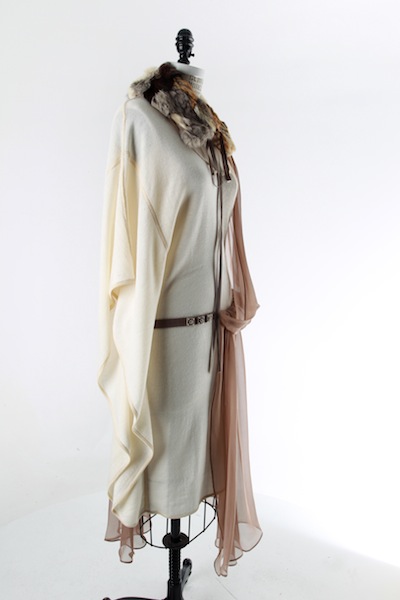 The School of Fashion is pleased to announce the students and instructor selected for Discarded to Divine's 2011 Jury Awards:
Home Decor-Pillows: Black and White City II by Yingy Li
Home Decor-Lighting: You Are My Light by Martha Garcia
Menswear & Accessories: Luggage Bag Blazer by Ryan Morar
Children's Wear: Little Dress at Arles by Amanda Lin Carlson and Phoebe Bell
Fashion Accessories-Other: Winter White Top Hat by Sarah Padgham (Instructor)
Women's Evening Wear: Mille-Feuille by Tanja Milutinovic, Pei-Ju Lo, Shih-Wei Fang, and Qian Xie
2011 Discarded to Divine publicity materials also feature the dress "Aphrodite", created by School of Fashion students Xiang Zhang and Yoorim Kim (pictured at the top of the post). 
Jury Awardees received special mention at Friday night's preview event.
Follow the jump for a complete list of work by students featured at Discarded to Divine.

Selected for Silent Auction or Live Runway Auction on April 28, 2011: (student teams indicated by "+")
Danielle Colen + Chenye Zhang + Megumi Kusumoto
Allister Fernandes + Harita Pallu
Lorenette Haynes
Hsinyi Hung
Shuchi Jain
Erika Karlak + Iglika Matthews
Kate Lee + Jason Tam
Chenxi Li + Yoonjung Choi
Jie (Jessie) Liu + Ginie Huang
Alma Marquez + Ilana Siegelman
Jing Niu + Meixi Bai
Kristen Tang
Renee Torres
Stephina Touch + LaTonya Jones
Cangyue (Christina) Zhang
Check out the slideshow of their work:
For more event information, or, if you are interested in purchasing tickets to the gala on Thursday April 28 at St. Mary's Cathedral, visit www.discardedtodivine.org.