Get your portfolios ready. Eric Puestow from Abercrombie & Fitch is about to do some recruiting on Dec. 9.
Ever since 2007, Eric has been making a trip to the School of Fashion at the end of each fall semester to recruit designers to work at the hip collegiate clothing label. To be more exact, Eric will be reviewing portfolios of a special project that students from the Portfolio and Fashion Design 6 classes have been arduously working on. To be even more exact, they will be recruiting for summer internships for juniors and doing job placement for seniors who are about to graduate. So if you fall into any of those categories, this may be your cup of tea.
In 2007, about 11 students were selected and flown to the A&F headquarters to visit and they offered paying internships to alums Stephanie Garges and Jennifer Schweitzberger (who also snagged an internship with Zac Posen). Click through the slideshow below to see her work:
The next year, Cat Janky, Esra Aydin, and Liza Rouhani got internships for the summer and Liza got a job offer. And by the way, she will be here with Eric this Wednesday for a nice homecoming!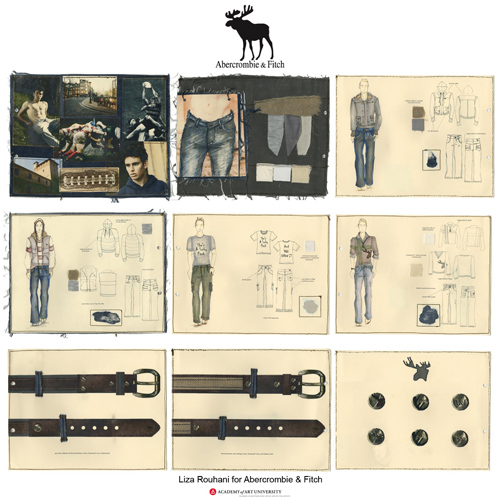 Liza Rouhani's work with Abercrombie & Fitch