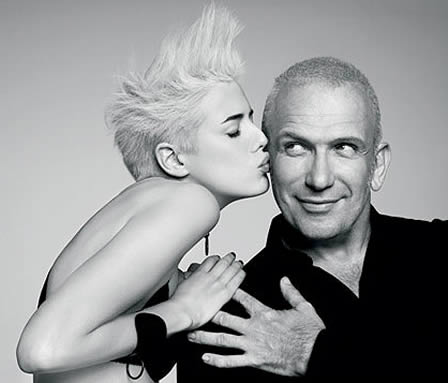 Ever wondered what it takes to be recognized as a true French couturier? Jean Paul Gaultier has spent his career stunning audiences and creating a name for himself in the world of fashion. Nowadays, the word couture is too often used and can represent anything from a meticulously crafted ball gown to a pair of velour sweatpants. It is only when we take a closer look at Gaultier's work that we can recognize the true art form of what haute couture really is.
The De Young Museum will be showing its fourth designer exhibition this March and Jean Paul Gaultier is the perfect subject. Audiences can expect to be shocked by his provocative styles and wowed by his amazing design skills. He may be the shyest one in the room, but his personality is sure to shine through his collections.
Nathalie Doucet, founder and president of the Arts of Fashion Foundation, gave a lecture at the Textile Arts Council this past weekend. We learned about the life and career of Monsieur Gaultier, as well as the history of some of the most famous French couture houses in history.
Growing up in the suburbs of Paris, his life was far from glamorous. He spent much of his time watching television and reading fashion magazines. He was fascinated with the female body and intrigued by the idea of making it look more beautiful. Gaultier began experimenting by performing makeovers on his first mannequin, a stuffed teddy bear.
Follow the jump to read more!
Gautier's time in school wasn't easy. He struggled to make friends and was teased for being different from the other pupils, but he was never discouraged. He focused all of his energy on the things he enjoyed: drawing, theatre, and magazines. His interest in fashion continually became stronger, and he sought a way to drive that passion forward.
Gaultier studied the work of his predecessors such as Cristobal Balenciaga and Christian Dior, couturiers whose houses had carried on their legacy. He was also fascinated by the new generation of couturiers, namely Pierre Cardin and Yves Saint Laurent – who had both worked at Dior before stepping out on their own. He greatly admired their work and was eager to start working for someone who embodied their new way of thinking. He submitted his design sketches to Pierre Cardin and on his 18th birthday received a call asking him to come and work. Jean Paul Gaultier worked for three different designers during his 5-year apprenticeship: Pierre Cardin, Jacques Esterel, and Jean Patou. Once his training was complete, his friends and family helped him raise funds to create his first collection. In 1976 Gaultier produced his first fashion show. His love of rock and roll, interest in sexual ambivalence, and inspiration for a revolutionary look was reflected in his designs.
Gaultier's 35-year career has been controversial, beautiful, and certainly a success. He runs several tremendously esteemed fashion lines; Haute Couture & Pret-a-Porter, as well as numerous accessories lines and a variety of perfumes. If there is anything we have learned from him, it's that the world of Gaultier knows no boundaries.
7 things you didn't know about Jean Paul Gaultier:
1. He is completely addicted to TV
2. He was raised by his grandmother
3. Only 16 people attended his first fashion show in 1976
4. He sold 3000 pieces from his means wear "skirt collection"
5. Jean Claude Van Damme was one of his first male models at the age of 22
6. His fashion shows were open to the public from 1984-1989
7. He never went to fashion school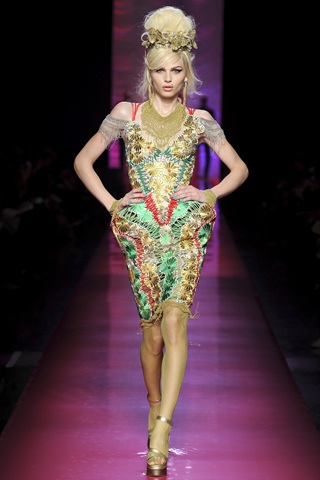 Gaultier's homage to Amy Winehouse at the Spring '12 Haute Couture show. Photo Courtesy of Style.com.
Written By: Ashley Castanos. You can read more from Ashley on her blog,  A Walking Canvas.