The sound of pop sensation Lana Del Rey singing "Young and Beautiful" is angelic and cinematic — and it served as a fitting audio backdrop to a recent presentation of works created by of some of Academy of Art University's graduate fashion design students.
Last weekend, the combination of garments from the design students became a 16-piece collection of curated pieces for the St. Ignatius College Preparatory Fashion Show in San Francisco. The show benefited the St. Ignatius Scholarship Fund, which provides financial aid for students to study at St. Ignatius. Academy of Art University styling majors and public relations interns, Effie Goh, Sydney Koehler, and Richard Kenwright, helped style the show from conception to execution, including working with St Ignatius high school seniors who served as models. 
Here is what the Goh, Koehler, and Kenwright shared about their process and observations.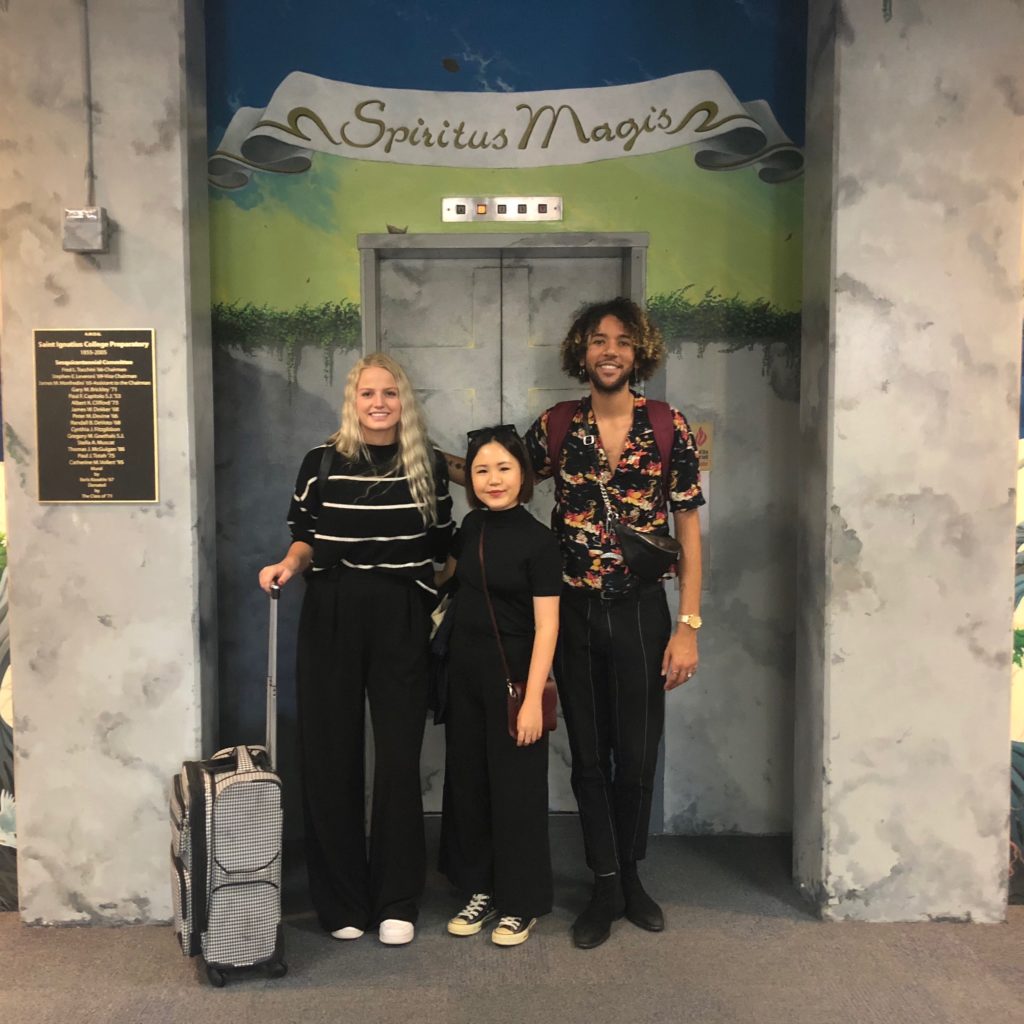 What was the overall concept for the show?

 
Effie Goh: The main theme for this year's show was "Sing" and our overall concept was making the garments look as colorful as possible while fitting into the theme of the show. 
Richard Kenwright: There is a lot of interpretation allowed since the concept was somewhat vague. We focused on, 'What emotion made you feel like singing? What colors, what memory, etc?' We highlighted bright color pops with print accents and interesting silhouettes. 
Sydney Koehler: For our segment, they chose "Young and Beautiful" by Lana del Rey.
What was your thought process as you pulled garments?

 
Kenwright: Our thought process began with color: 'What colors would best exemplify singing, or what proportion would best convey the feeling of a song?' 
Koehler: We knew we were going to use Jessica Lai's and Lusha Wang's MFA collections (which were just shown at New York Fashion Week). When we selected additional designer pieces, we made sure that they hadn't been used at the St. Ignatius show last year and that they coordinated well with Jessica's and Lusha's collections. 
Goh: We had to also keep in mind that the girls who modeled for the show are really young. With this, finding a balance between the theme of the show and the girls was equally as important. 
How did you decide which pieces to use for the final collection?

 
Koehler: Once we went back and looked at our mannequin styling, we removed garments that didn't go with the overall color scheme and mood, and refined from there. 
Kenwright: We honed in on three designers including Lai and Wang as well as BFA fashion Design graduate Jeannifer Tirtamarta. Garments from BFA textile designer Mario Chinchilla + MFA Designers group collection were also used including the design work of Danni Huang, Qiaochu Li, Xiaomo Liu, Muhammad Ahsan Nazir, Ashely Nucera, Junyi Wang, Chenqi Xie, and Meijun Lu.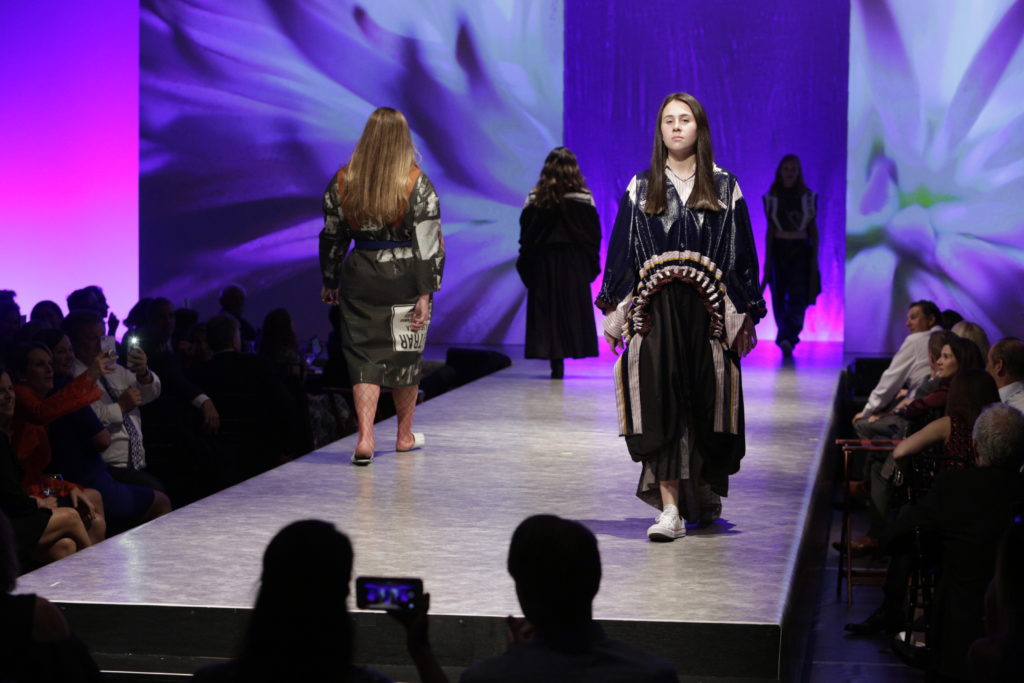 How did you deal with the stress of pulling this show together?

 
Koehler: Right off the bat, I printed a calendar and created a timeline that I forwarded to my team. The calendar and timeline included days we were styling, and first and second rounds of check-ins to really pull a concept together based on what we had styled on mannequins and finalize what we had been working on. I also replied to emails ASAP so that there was not any time wasted or anyone waiting on me.
Goh: This definitely helped with looking at important dates and everything in a larger perspective. This aided in reducing stress and an overwhelming feeling of not getting things done on time. I had created my own schedule as well, so that I knew when I had to complete things for the show and classes. 
Kenwright: Don't forget to breathe. It may sound silly, but it's vitally important to be able to take a second to assess what your next move is. There are so many moving parts in the show preparation, and for a stylist, it's important to maintain an organized area without stressing everyone else out. During a show, most people are stressed and the energy is high, so it's important to simply smile, roll with the punches and know that everything will work.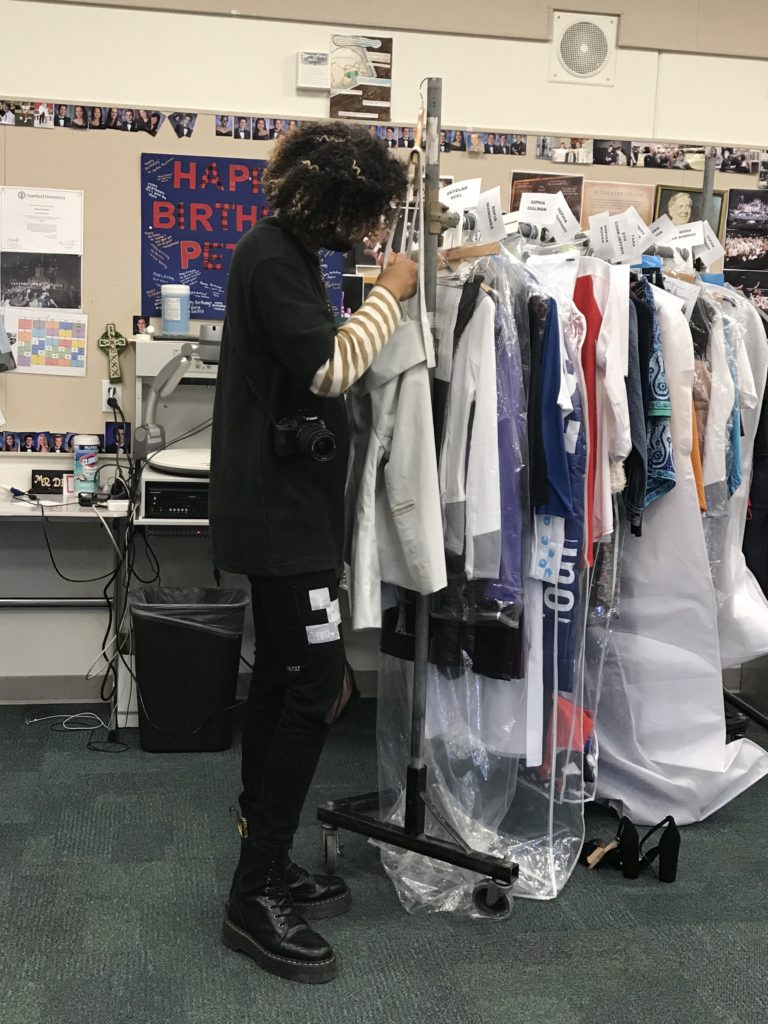 What was the hardest part of preparing for the show?

 
Koehler: Hardest part for me was details. I spent hours matching girls to looks for fittings and making sure we had backups. We only had a photograph of their faces and were provided their sizes — we did not have full body photographs to work from— which is why I was stressed about this. I didn't want anyone to feel discouraged about something not fitting because it was made for a runway model. One reason I got into styling to make people feel good. 
What were your biggest strengths when working as a team?

 
Goh: Our organizational skills. With us being organized, it really helped with keeping things on track. 
Koehler: We just worked super well together in general. Dividing tasks and trusting one another to do the tasks made it easier and worked out better. 
Kenwright: I feel like our communication was the biggest strength. The three of us were able to communicate who needed to do what part during the show, and our teamwork really allowed our portion of the show to run smoothly. 
Explain the feeling of seeing your work walk the runway.

 
Goh: I didn't expect to feel so emotional; we have all worked hard prepping and styling for the show. I felt a sense of pride and excitement when the school's logo was reflected on the runway screen. When the girls walked down the runway along with the music – that is when I felt very emotional and happy that we made it. It was such a great experience and feeling to look at the outfits on stage.
Koehler: I literally wanted to cry. I was so proud of the girls and how it all came together, and the 'hard work pays off' moment. The song playing and the way they walked made for a very magical moment
Kenwright: It felt spectacular seeing the girls walk down the runway. After weeks of preparation and small changes to the looks, it felt surreal. Seeing the show makes me want to do even more work!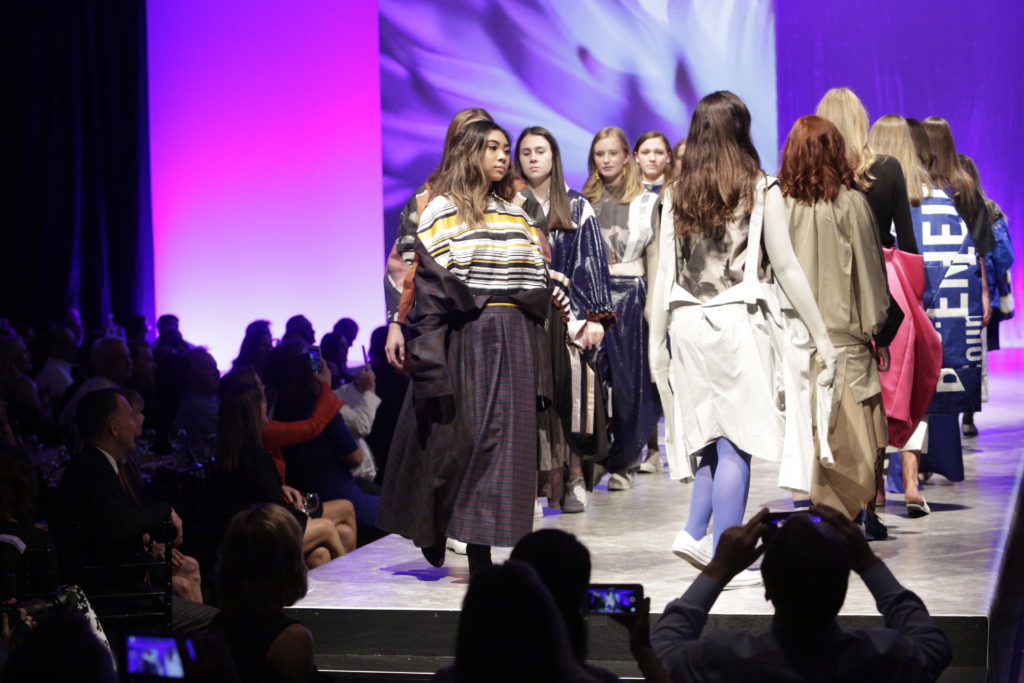 What inspires you to style?

 
Goh: Ever since I was young, I've loved looking at how people were dressed on the street and in movies and this really inspired me to style. I feel that by styling, it gives me a creative outlet to bring all my ideas to life. There are many things that inspire me, from art to my two muses, Patti Smith and Robert Mapplethorpe.
Koehler: I got into styling because I want people to feel confident in themselves through clothes. I believe the body is a blank canvas where we have an opportunity to communicate with the world without speaking. 
Kenwright: What inspires me to style is the creativity that is behind a look, and how the individual will feel once the entire look is finished. I love helping someone achieve a look with my help.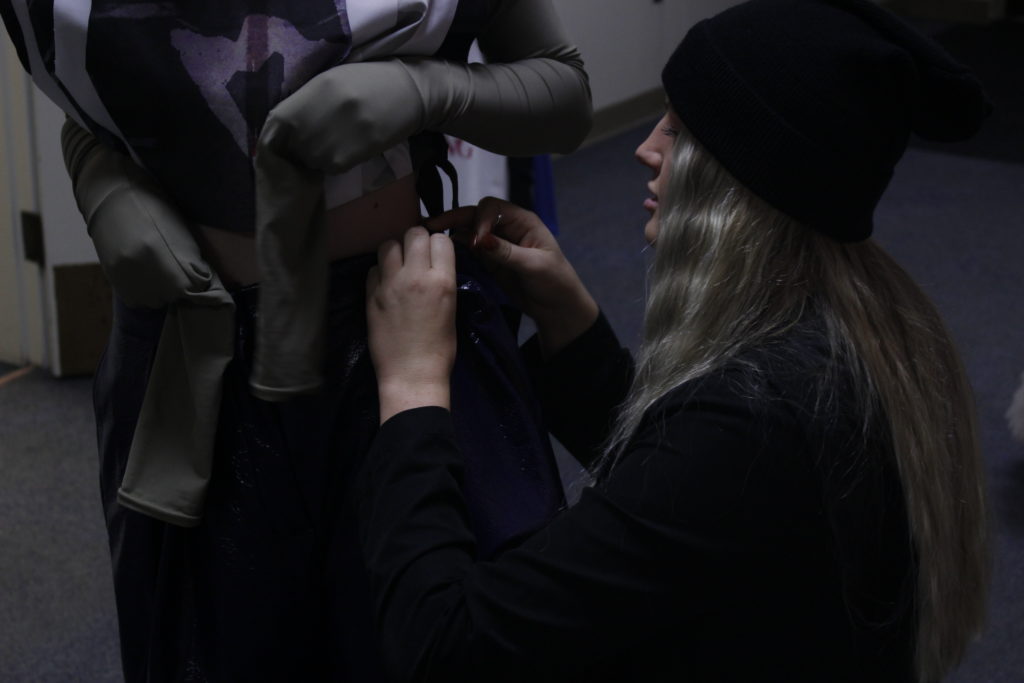 Would you recommend this experience to other styling seniors?
Goh: I would definitely recommend this experience, as you will learn a lot during the whole process. Even though I have helped out during Singapore Fashion Week, this experience was so different, as we are able to style and practically do almost everything by ourselves. Even though the preparation and styling takes up a lot of time, it is an experience that I will never forget and will be forever grateful for. 
Koehler: Yes! A million times, it's a great learning experience and a great platform. I've been a part of numerous shows but never one I had to produce. It's a lot of work but very rewarding and a great thing to be able to put on your resume. And the cherry on top is that it's for a great cause.
Kenwright:  Absolutely. It's an interesting experience not having (Assistant Director of Fashion Styling, Flore Morton) or any other University faculty with you. It was an enriching experience and it's important for stylists to gain this knowledge of how to facilitate a fashion show. 
Each stylist shared their gratitude to Flore Morton for the experience, as well as, to all those who helped their creation come to life, especially the St. Ignatius College Preparatory organization for hosting this event. 
Text by Faith Ripoli, BA Fashion Journalism