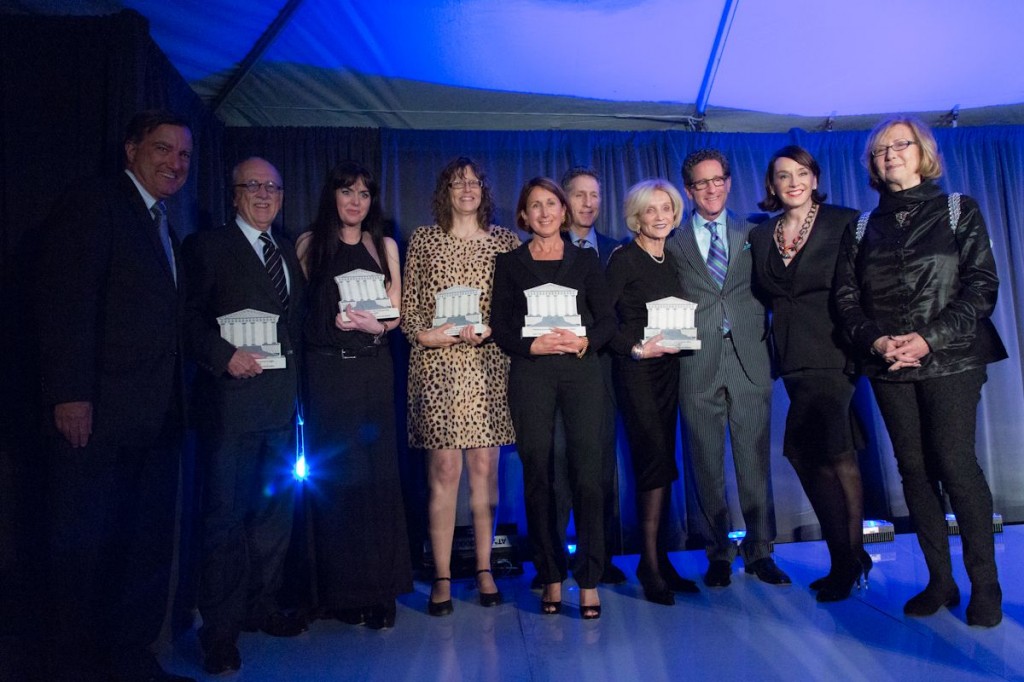 Standing Ovations VI: San Francisco Style honorees including School of Fashion alumna Sara Shepherd, President of the Academy of Art University, Dr. Elisa Stephens with Executive Director of the School of Fashion, Gladys Perint Palmer. Photo courtesy of Aldo Carrera.
Celebrating style of the centuries along with the Bay Area's next big thing in fashion, Standing Ovations VI: San Francisco Style was an evening that certainly deserved a round of applause. San Franciscan historic landmark, The Old Mint, housed a different kind of precious artifact last night. Coins were swapped out for couture as each room exhibited fashion from almost every decade, and capped off the night celebrating some of the Bay Area's biggest fashion influencers of today. Along with honorees Wilkes Bashford, Levi Strauss & Co., Macy's, and The Sockolov Family (Rochester Big & Tall), the evening toasted both The Stephens Family and School of Fashion alumna Sara Shepherd.
The evening's "Rising Star," Sara looked chicly stunning wearing her own black, backless design."I am so grateful for this honor. I truly couldn't have done anything that I do now without having gone to school at the University," she told Fashion School Daily  "I was taught the real skills I needed to succeed in this industry: to work hard, to be resourceful. Fashion is not about being famous or becoming a celebrity. It's about the work."
Echoing the sentiments of another acclaimed designer (cough, Sarah Burton) Sara credits much of her success to her former instructor Simon Ungless "None of this would have been possible without him. Even now, his opinion is still the one I value."
We've included a few of our favorite images for the night below. Congratulations again, to Dr. Elisa Stephens and Sara Shepherd for their well deserved "Standing Ovation".

Photos courtesy of Aldo Carrera
---