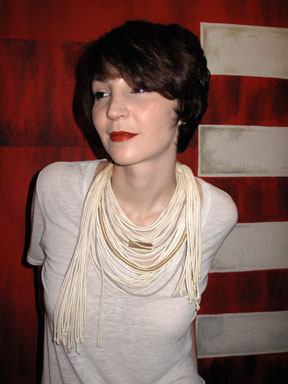 Online Student Emily Amorello who lives in Dubai
In this week's edition of Ex-Changing the World, we caught up with Online Student Emily Amorello, who lives in Dubai. She details her experience at Dubai Fashion Week and discusses the local fashion industry – it sounds like there are some very exciting things happening!
Dubai Fashion Week is the Arabian Gulf region's longest running industry event. Capital Marketing produced the first show in 2005 and has since struggled to provide local designers with a strong platform to grow their businesses and highlight the region's burgeoning industry to the international community. Six months ago the sands of change kicked up when Capital Marketing announced its partnership with Cranberry Middle East and International Fashion Innovators.
The most exciting aspect of this alliance is the role Simon Lock, a friendly Aussie with decades worth of fashion industry experience, will play in the future of DFW. He is credited with starting Mercedes Australian Fashion Week and working extensively in Asia as Festival Director of Singapore Fashion Week and MasterCard Luxury Week Hong Kong and is the Senior Vice President & Managing Director of IMG Fashion and Models for Asia Pacific. He has produced shows for sartorial heavy weights like Diane Von Furstenburg and Marc Jacob in places like New York, Paris and London. He arrived in Dubai last summer with a firm understanding of the region and it's unique potential as the only fashion event in the world that shows couture, ready to wear and abayas.
Follow the jump to read more!
At a press conference in June I listened to his promise to elevate DFW to international standards by focusing on what he believed to be the core elements of a successful event. His infectious enthusiasm despite the mighty challenges that lay ahead of him was enough to get this jaded girl riled up. Which is why I am thrilled to report that just five short months later Simon Lock, his team and partners produced the best Dubai Fashion Week this region has ever witnessed. With an internationally experienced production team and models, better sponsorship, focused consultations with designers and a stellar exhibition space DFW managed to win over every last critic, even booking designers that have long since boycotted the venue for next season.
The opening show saw hand picked abayas, couture and ready to wear garments from each designer presented in a theatrical performance that fused high fashion with Emirati culture, including live singing and dancing where even falcons graced the catwalk. Although the cultural display is not something one would expect to see, it proved a success as it both honored the region's rich heritage while highlighting DFW's inception into the Dubai Arts and Culture Authority, a feat that will help guarantee its future achievements.
In addition to DFW's major comeback, it should be expressed that the local design community has grown leaps and bounds over recent years with a plethora of new resources that provide opportunities to creative professional within the UAE. Therefore, the quality of garments sent down the catwalks was at its all time best. My personal top pick was Filipino designer Furne One's Amato show as his talent and vision represents the potential of this region to produce high quality fashion.
With over a decade under his belt designing couture gowns for the royals, celebrities and the UAE's elite, the extremely kind and soft-spoken couturier has found recent international fame with his work featured on Hiedi Klum's Germany's Next Top Model. His shows have always demonstrated his talent for creating exquisite evening dresses, but his S/S12 show has taken the runway experience to a whole new level by rendering an alternate reality where his designs reined supreme. With this collection he challenges our sense of beauty by pairing pastels and muted hues of silk and chiffon, lace, embroidery and crystals with surgical steel, medical braces and LED lit tubes and wands transforming models into glamorous cyborgs.
As an online student, I look to Dubai Fashion Week each season to gauge the progress the local design community is making and where I might fit in upon graduation. This season has left me reinvigorated about my future in fashion and Dubai. I can say that for the first time in five years I can't wait to see what happens next season!
Written By: Emily Amorello