By Lo Olbin, BA Fashion Journalism
The launch of a designer's own brand is one of the most nerve-racking but exciting accomplishments one could achieve. From designs to manufacturers, photoshoots, and runway shows, the attention to detail is a never-ending journey that demands the designer's full attention. One creative who recently experienced this is Ratchapol "Beam" Ngaongam. After graduating from the Academy of Art with his degree in knitwear design, he chased the designer dream, landing in New York City, where he launched his very own knitwear brand, Bulan, this past September. Fashion School Daily had the opportunity to sit down with him and ask about his journey from student to designer and get the scoop on what's next for Bulan.
Hi Beam, how are you?
Good. A little bit overwhelmed with the launch of my brand. It's a one-man team, so I'm doing everything on my own. Since I launched I've been getting a lot of tractions like magazine buyers, stylists, all of that. It's been crazy.
Tell me about yourself.
I went to the Academy of Art and graduated in 2019 with a knitwear design major. I applied to as many big fashion houses as possible, and to my surprise, I got a lot of responses!
After I graduated, I moved to New York and interned for Proenza Schouler for ten months. The contract was originally three months, though it got extended, and since no one was hiring because of the pandemic, it was a good place to learn. I did fittings with the creative director, Lazaro Hernandez, and I also worked closely with the senior knitwear designers. It was a big learning experience, especially right out of college. I was overwhelmed at that time because it was a big company, so they expected a lot from me. It was stressful, but at the same time, it was one of the best internship experiences that I've had. Eventually, I got to a point where I needed to move on because Proenza didn't have the budget to hire anyone at that moment. I moved to The Only for another internship and worked for them at the end of 2020. At that time, they were growing fast because they were doing some crazy stuff, but since the team was small, it ended up being too much work, and at that moment, I didn't see myself getting hired. I stayed for three months, and then I left for Phillip Lim. I stayed there for five months and had already started designing my collection on the side. At Philip Lim, I also learned a lot. My boss was amazing. The knitwear team only had two people; it was just the senior designer and me. I was fortunate that I got to help her. I eventually asked if they would hire me full-time, but unfortunately, they didn't have the budget at the moment. That's when I decided I would create my own job. So I quit everything and started my brand at the end of 2021.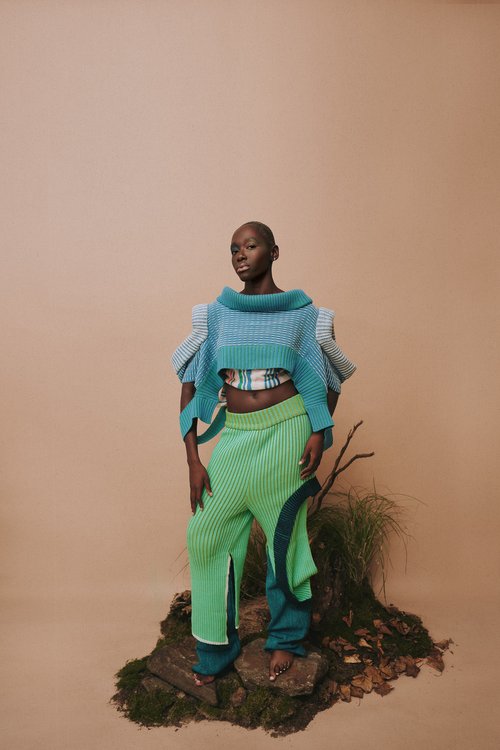 Tell me about your brand Bulan.
At first, it was more of a side project for me. I didn't plan to launch an entire brand, but it kept getting bigger and bigger as I kept designing. I launched this past September during New York Fashion Week and dedicated this collection to mental health issues.
Bulan in Thai means "The moon floating through the sky." It was my nickname when I was a kid that my parents and grandparents called me. I was in the shower one night, struggling with what I should name my brand, and that name suddenly popped up. I have a personal attachment to that name, which encompasses meaningful moments for me.
Describe the person who would wear Bulan.
I designed this without having any gender in my mind. If it fits you, then it suits you. I design what I would wear for people who love trying something new. I also want to keep my brand relatable to everyone. Accessible to everyone. At the same time, I want to design out of love rather than for a trend. I want people to buy it and value my work. With everything I do, I make sure that it's meaningful.
What was your creative process when designing the first collection for Bulan?
This collection started with my graduate collection that I did in 2019. My collection was picked and shown during the school show in May. After that, I got an offer to show at New York Fashion Week, but I had to make two more looks. Making three looks for the school fashion show took me 15 months to complete. At the time, I was so burned out. I was mentally and physically exhausted. New York Fashion Week was big, not everyone gets to do that, but sadly I had to turn it down. Since then, it's been in my head that I wish I had done it. So this collection was closure from that moment. I didn't do New York Fashion Week, but now I am my own boss. I'm ready for the next chapter of my life.
The collection started off as an exploration of sadness versus beauty of the human body and the fascination of how much the human body can take from stress, anxiety, depression, etc. Then, in early 2022, I got the chance to get to know a loved one and being able to witness that mental health issues are so much more than people think. That's why you see a lot of excessive wrapping, holes, twisted and asymmetrical elements.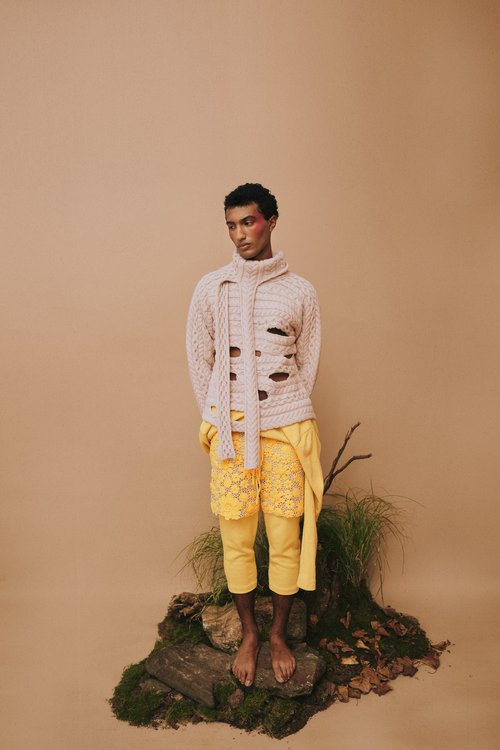 Do you still handmake the garments?
I am no longer doing everything by hand since it's a bigger production. I work with factories in Thailand which is where I'm from. That's also a part of me showing that Thai people are very good at what we do if we get the opportunity to show that. I want people to see that Thailand is much more than people might know.
Why 3D knitting?
I started knitwear back in school and loved this whole idea of knitwear being soft and feeling luxurious. You create something from a strain of yarn rather than buying ready-made fabric. With knitwear, you make the fabric yourself. And this is going to sound crazy, but I'm a Taurus. Taurus are known to love crafty things, fibers, soft materials, etc. So what's better than being a knitwear designer if not a Taurus knitwear designer?!
With how knitwear is, it will drape. No matter what you do, it will fall due to gravity. Thus, you can play a lot with draping or another word, 3D design. Some designers will get their ideas from drawing and sketching based off of their inspiration, but for me, I work with draping (3D) a lot. Draping gives you new silhouettes that you'll never get from sketching. When you drape, you can be as creative as you want and it doesn't take a lot of energy as gravity will do most of the work. After I drape, I will then sit down and draw what it looks like. It gives you an instant visual of how the design will look on a body. 
Is there a Bulan team?
Overall it's a one-man show, but one thing I like about being in New York is that you meet so many creative people in this city. It's all about connecting with another creative. When I say it's a one-man show, it's true, but this whole thing would never have happened if I didn't meet a friend who's a photographer, if I didn't meet a friend who's a stylist, if I didn't meet a friend who's a set designer, etc. All of this happened because of the connections I've made by being here. That's what I love about being in New York. It's this whole thing where you meet so many people, and you can see they're hungry to work with you. With the help of all these friends, that's why this brand is happening.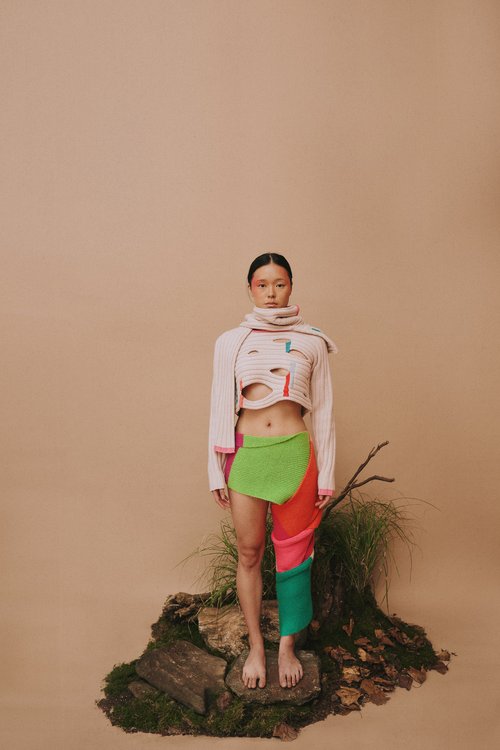 How do you promote?
I've been featured on big fashion pages on Instagram, which is amazing, but as far as promoting my brand, I want to grow organically. I want people to come to my brand because they truly love what I do rather than loving the garments because of a trend that will pass within a season. That's also why I only do one collection per year rather than two or four. I want to focus on one collection per year and make it really good.
What has been the most significant pinch-me moment of your career so far?
Just recently, I got featured on the digital cover of GQ. When they got back to me, I didn't know that it would be a digital cover; I just thought it was an interview. Then they posted it, and it was a whole cover. It's coming out next month; it's crazy.
What can be expected for your next collection?
I am in fact, designing another collection right now. I play a lot with what knitwear can do. People need to realize that knitwear can be more than just a regular sweater. I play a lot with gravity; you get this cool dripping element just by pulling it down. I want to provide something new to the knitwear industry, so I always look for new ways to do knitwear that is not just a regular sweater.
It's still in the beginning stages, so I'm deciding which route I want to go. That's all I'm going to say. I want to keep that element of surprise. I like the reaction from people to be, "Holy, that's knitwear?!"